Pregnant women, children and gunshot wounds: A day rescuing refugees from the Mediterranean Sea
Lizzie Dearden joins the crew of MSF's Bourbon Argos as they race to rescue hundreds of refugees from drowning in their bid to cross the Mediterranean to safety
According to Rapportuer Report From , Independent , Link , "All crew to the main deck, all crew to the main deck," sounds an announcement on the Bourbon Argos rescue ship. An 11-strongMédecins Sans Frontières (MSF) team of medics and aid workers launch from their beds, donning life jackets and helmets to rush into the darkness outside.
It is 3.40am – hours before dawn and the first watch of the day – but the Maritime Rescue Coordination Centre (MRCC) in Rome has already received reports of two large rubber boats launched from the Libyan coast.
Left to journey into the Mediterranean Sea by smugglers in the pitch dark, every passing minute increases the risk of the flimsy dinghies taking on water or capsizing as two boats did just 48 hours before, killing at least 239 refugees.
The crew of MSF's Bourbon Argos have been preparing themselves for the worst after arriving at a rubber boat during their last deployment to find 29 people already dead inside.
Their new target slowly emerges from the pitch black, lit by only a torch held by German volunteers on a speedboat who have already started giving out life jackets.
The dinghy is packed with 136 men, women and children, all shouting and waving to rescuers after more than three hours at sea. MSF launches its rib and pushes the boat into the side of the Bourbon Argos, where sailors drop a rope ladder down to the refugees.
Luwam Bede, a MSF cultural mediator, is tasked with giving instructions to help the passengers – African migrants communicating in shared languages of French and English – board safely.
"Attend, attend!" she shouts as two men scrabble for the ladder. "Don't climb! Ecoute moi!"
"Please don't rush," one of the refugees pleads while the boat lurches violently against the hull.
The panic calms as the migrants are helped off the boat one by one, to be welcomed on board the Bourbon Argos by smiling MSF workers and undergoing medical checks.
As the smugglers' dinghy empties, leftfilled only with seawater and discarded clothes, elation spreads on the deck.
Friends and relatives embrace and share jubilant hugs, before the joy spills over into dancing and singing that eventually subsides as the exhausted passengers flop down on to the planks.
They know they are the lucky ones. With 2016 now the deadliest year ever for refugees, seeing more than 4,000 migrants killed trying to cross the Mediterranean, some passengers have taken precautions.
One man has written a phone number in permanent marker on his trousers, while another has inscribed his name and a prayer on his life jacket. Both would be used to identify bodies and contact loved ones.
Soon, the new arrivals start to ask rescue workers about the other boat that left the Libyan city of Sabratha alongside them but has still not appeared.
Minutes later, the crew spot the vessel on radar but cannot approach. It is within Libya's territorial waters, a stretch too risky for the Bourbon Argos to enter after coming under attack by the national coast guard and being warned of threats made by Isis fighters on the country's shores.
After an agonising wait, the dinghy passes into international waters and MSF's crew springs into action once more, bringing the overloaded boat alongside as the sun breaks over the horizon and taking its 130 passengers on board.
Among them are two babies – one in an oversized life jacket and the other bundled up in jumpers and cradled in her mother's arms. Rescue workers have to lower a basket down to collect the infants safely one by one, before they lift another young girl to safety.
On deck, the passengers reunite, with many joining celebratory singing while others fall to their knees and pray, kissing theBourbon Argos' deck.
Doctors and aid workers stop their work to watch. "It's beautiful," one remarks, recalling drastically different scenes as the same team helped more than 100 traumatised survivors of the previous week's tragedy.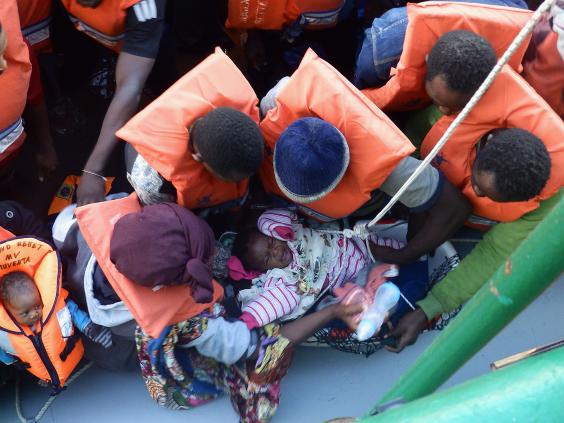 But the respite does not last long – there are two more boats, then three, then more as other humanitarian vessels patrolling the zone transfer refugees from their own rescues to be taken to Italy.
Among them are two more babies, several young children and seven pregnant women – one at nine months.
Disaster is narrowly averted when panic breaks out on the fifth rubber boat to be rescued as it deflates at the back, filling with water and sending a group of men overboard.
They cling to nets on the side of the ship as MSF staff launch floatation pillows into the sea and drag the men to safety. But one has inhaled too much water and needs emergency medical care after narrowly avoiding drowning.
Many of the refugees are too weak to climb the ladder to safety or even to stand, with one woman being winched up on a stretcher, as well as a hyperventilating man who doctors said was in acute distress after being tortured in Libya.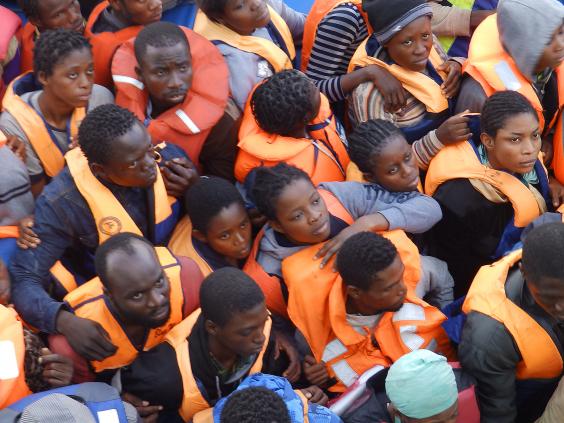 Medics discover another man has a gunshot wound in his leg from attack just a week ago, leaving the bone fractured in two places from the bullet.
The injured are treated in theBourbon Argos' hospital – a converted shipping container – as more new arrivals join the vessel and receive water, food, dry clothes and blankets to ward off the November chill.
After more than 10 hours of near-constant rescues, at least 868 men, women and children are on board, filling the ship's deck, bow and staircases as it starts the 330-mile journey back to Italy.
The passengers, from across Africa and the Middle East, have a long journey ahead after arriving in an increasingly hostile Europe, to be faced with borders, barriers and regulations many are unaware of when they set out.
But for MSF, their job is well done. Michele Telaro, the Bourbon Argos' field coordinator, said he was proud of his crew and thanked the Iuventa and Minden ships for aiding rescue missions.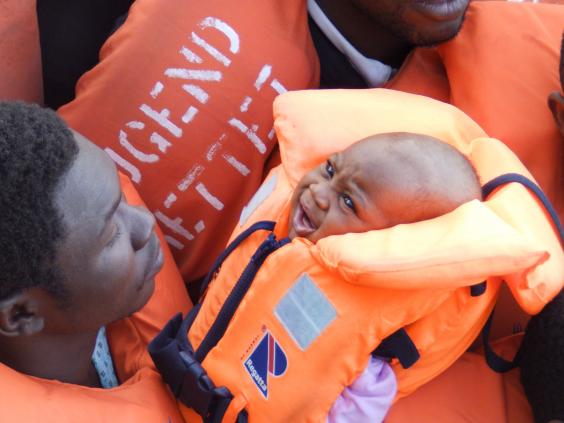 "I'm very happy about today," he added. "It was nice but that doesn't mean there aren't problems.
"A lot of NGOs are leaving [the search and rescue zone] – some have already left and others are leaving soon...I'm very worried."
The Bourbon Argos' departure to Italy to disembark refugees leaves only two humanitarian boats with the capacity to make the same journey in the Central Mediterranean.
Tens of thousands of migrants are believed to be waiting in Libya to depart for European shores, with smugglers expected to take advantage of a spell of good weather forecast for the following days, before winter closes in and the sea becomes even more treacherous.
"At the end of the day there were 1,200 people [in the search and rescue zone], we've had days before where there were 6,000 people," Mr Telaro said. "So what happens now if there is a day like that?"
نظرات